Land Transport Authority (LTA) Fiji
SMARTQUEUE® has replaced LTA's existing queue management system and successfully eliminated its inefficiency.
It ORGANISES queues effectively, gives the ASSURANCE of appropriate service and makes waiting more ENJOYABLE!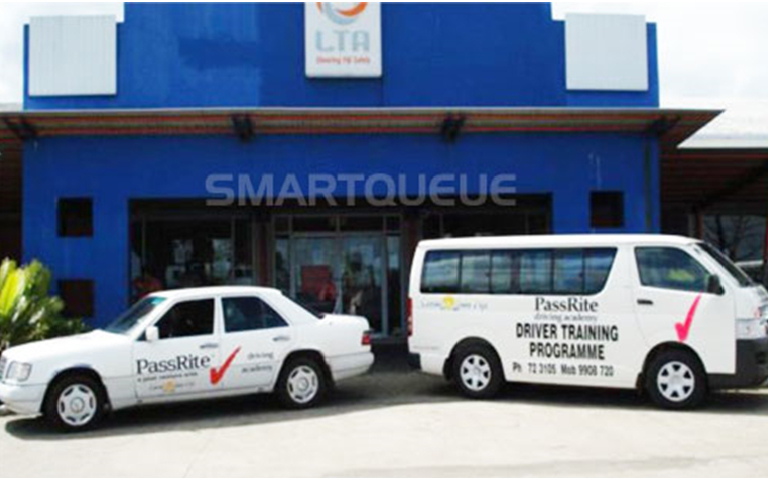 Responsible for Fiji's land and transport system, LTA's mission for 2010 was to rebrand themselves as community supportive, honest, safety conscious, and service oriented organisation. The goal at LTA was to reduce customer service waiting time at LTA customer service centres to 10 minutes for 80% of customers by 2011.
The Problem
Prior to its upgrade in 2010, LTA operated a basic Queue Management System (Q.M.S)™. This included a number display that was connected to a push button, where once a visitor had had their enquiry resolved, the next visitor would be called out by a staff member.
The old system was inhibiting visitor flow and reducing staff efficiency and visitors would often complain about the lengthy waiting time and could not see/ hear their number.
The need for an effective solution to streamline their customer influx was very much visible. The process of standing in queues lead to confusion and an absence of accurate statistical data lead to inefficient operations. Management could not forecast the volume of visitor levels at particular times of the day or year and as a result they could not allocate their resources efficiently.
Eventually, customers resorted to standing in queues as they could no longer withstand the inefficiency of the basic Q.M.S. Many customers became easily infuriated by the system's inability to manage queues effectively, which led to the distress of many LTA staff.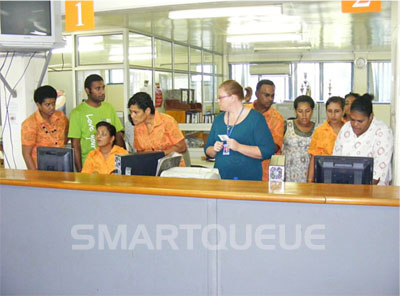 Implementation
New systems were installed in all of 4 LTA branches across Fiji in April of 2010. The project implementation involved removing the old system and replacing it with SMARTQUEUE® Integrated Multimedia Queue Management System.
Now upon entry, customers are greeted by an intuitive touch screen ticketing kiosk. Visitors can now choose the service most suitable to their requirements, such as licensing and renewing their vehicle registration. Upon receiving a ticket with their number, visitors are directed to the waiting area.
By incorporating a multimedia display, this innovative communications media shows visitors promotional videos or live television. This reduces the appearance of customer waiting time. The enhanced environment in which to relax brings the comfort of home into the waiting area.
The system installed at LTA was a centralised system; this means that LTA headquarters receive consolidated reporting across all of their branches for performance comparison. They can now recognise the need for extra resources or determine whether a new branch is required to cater the number of customers.
With the system implemented it was only a matter of time before the customers would start to experience the benefits.
The Solution
A solution was sought to resolve the difficulties being experienced and a decision was made to invest in the sophisticated SMARTQUEUE® Integrated Multimedia Queue Management System.
Go Live
With any change towards the 'status-quo' a natural learning curve had to be faced for both members of staff and service users alike.
Immediate Benefits
Within weeks of installing SMARTQUEUE®, LTA believes that it should take 1 year to achieve their goal in reducing customer waiting times. They are already seeing their customer waiting times below their 10 minute mark and staff are ecstatic with serving happy and pleasant customers.
From analysing past trends management could predict the days and times when customer volume would intensify. Consequentially decisions could be made to alleviate the pressure on a particular service point via the allocation of staff members where demand dictated.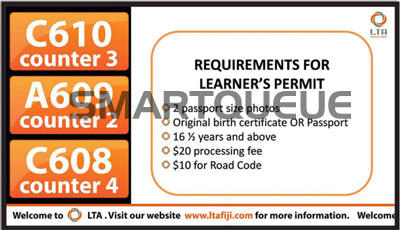 Soon after its implementation our customers became familiar with the system in operation. THEY LOVED IT as it organised things better and they could now relax in an environment where WAITING WAS MORE ENJOYABLE.
The Improvement
LTA has, with the assistance of SMARTQUEUE® Integrated Multimedia Queue Management System improved:
Overall waiting environment for visitors
Average waiting times
Clarity and reduced anxiety through audio and visual ticket display
Efficiency as visitors are now seen to by a customer service officer who has the most appropriate service skills
Productivity of service officers
Accuracy of data levels for management
Flexibility in the queuing process
Resource distribution, i.e. reallocation of staff when necessary
©2015 Business Smart Solutions. This customer story is for informational purposes only. Business Smart Solutions makes no warranties, expressed or implied, in this summary. To the best of our knowledge, all details were correct at the time of publishing. This information is subject to change without notice.

All Business Smart Solutions product names appearing herein are trademarks or registered trademarks of Business Smart Solutions. The name of actual companies and products mentioned herein may be the trademarks of their respective owners.