Queue Management System
A powerful queue management system designed
and developed to improve customer experience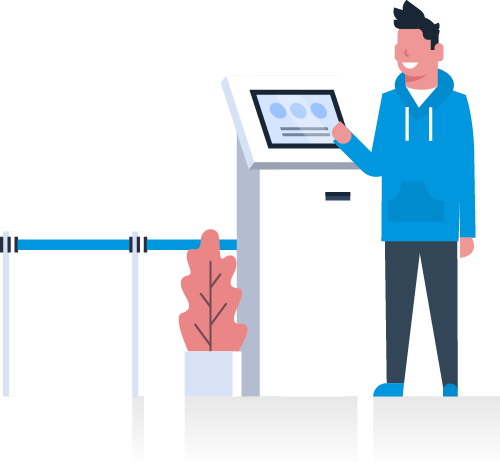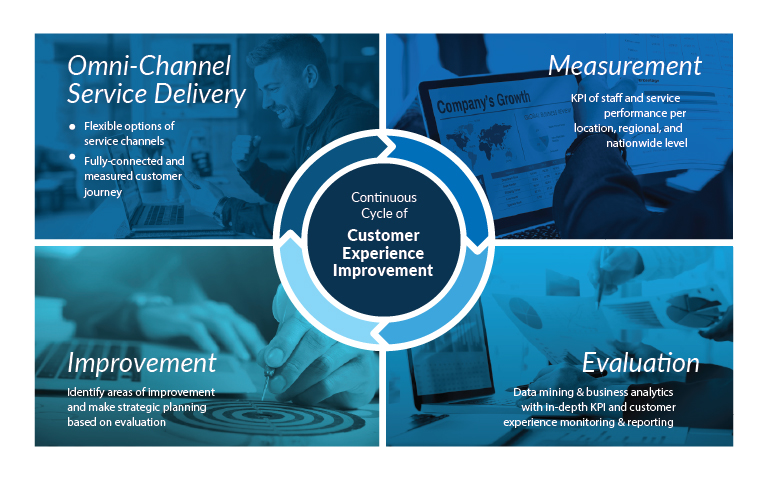 The SMARTQUEUE® queue management system is not only designed for managing queues, it is also intended to improve customer experience when receiving your services. To achieve this objective, the SMARTQUEUE® queue management system is built by 5 main elements that enable the system to deliver functions and provide data for analysis. These elements will help create a continuous cycle of customer experience improvement.
RESERVATION
Service Booking
Prior to coming to your premies, customers may book a service online through
SMARTQUEUE® additional module, the Appointment Booking System, featuring:
Service Booking– to book a service with selectable time slot and serving staff
Rescheduling – to make changes on your booked service
Cancellation – to cancel a booking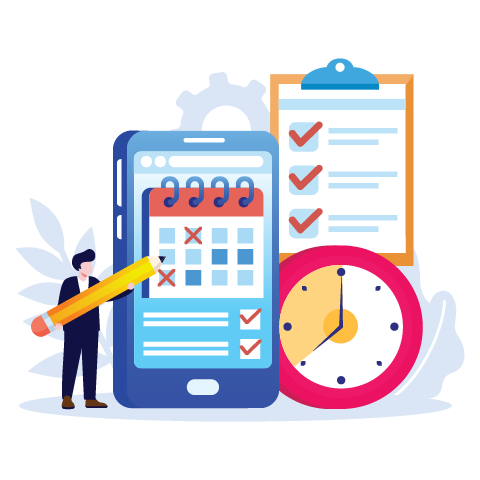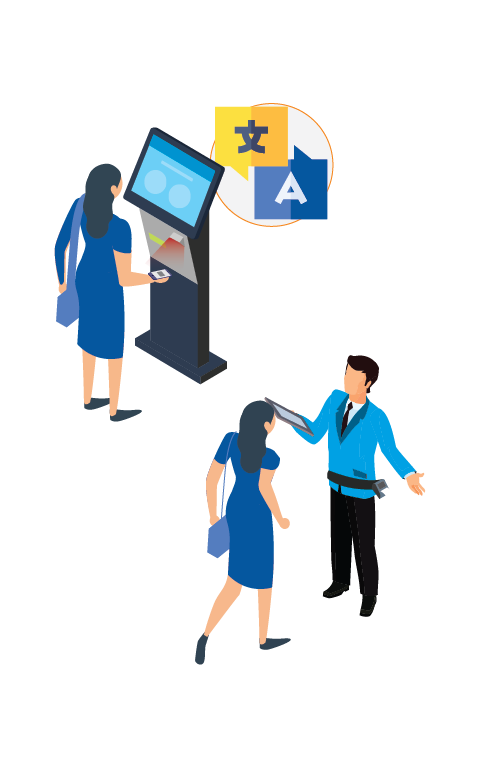 SMARTQUEUE® queue management system comes with omni-channel service delivery; as customers arrive at your premise, they who have already booked ahead can do self-service check-in on the ticketing kiosk, while direct visitors can choose to register into the queue through ticketing kiosk or assisted by a mobile concierge staff.
Ticketing Kiosk
When a customer first enters a premise, they often require guidance on what to do to receive the service they require. A ticketing kiosk functions to:
Greet– so your customers will feel welcome
Inform- your customers will know exactly where to go for whichever service they select.
Manage– your customer queue, so they will not lose their place
Record- everything from waiting time to serving time
SMARTQUEUE® queue management system kiosks also have optional attachments that will further enhance your business. Including:
Touch screen keyboard– an on-screen keyboard will appear when customer want to type their data in
Mobile Concierge Staff
As an addition to ticketing kiosk,  the SMARTQUEUE® queue management system can include the SMARTQUEUE® mobile concierge solution, which delivers a personalized approach to customers.  Accessible from wireless tablet devices, it can complement or even potentially substitute a ticketing kiosk. This mobile solution enables your concierge/front desk staff to freely move around the premises to greet and serve customers, managing queues and maintain positive customer experience with the ability to serve:
Customer Check-In- To complement or substitute the self-service kiosk
Personalised Service – For high value and special needs customers
Customer Allocation – To a particular staff with special skillset to minimise customers queuing for the wrong service
Managing Queues – Putting a ticket on/off hold
Inform – Able to inform customers of queue information for each service
SERVING
Customer Calling Module
With SMARTQUEUE® simple yet intuitive Virtual Caller, managing queues can be done more effectively. This SMARTQUEUE®  Virtual Caller functions to help the user:
Call the next customer
Each Virtual Caller user can be configured with some preferred service types that the user may be more suited to serve. This same feature can also be applied on a per counter basis instead of per-user allowing your staff to be effective and maximize customer flow.
Transfer a customer to another service
If your business has a rich set of services and you are afraid of customers selecting the incorrect service, fear not!  SMARTQUEUE® queue management system Virtual Caller can simply transfer the customer to the correct service and even give the option of placing the customer at the front or the back of the queue.
Put a customer on hold
Instead of waiting for a back-office response for assistance, your staff can simply put that customer on hold and continue serving other customers. When the reply has come, the service can easily be resumed thus reducing idle time.
Multi-platform support
On the SMARTQUEUE® queue management system, the Keypad is available in all Microsoft Windows native version. This means it can run on all Microsoft platforms that are Windows 2000 and above.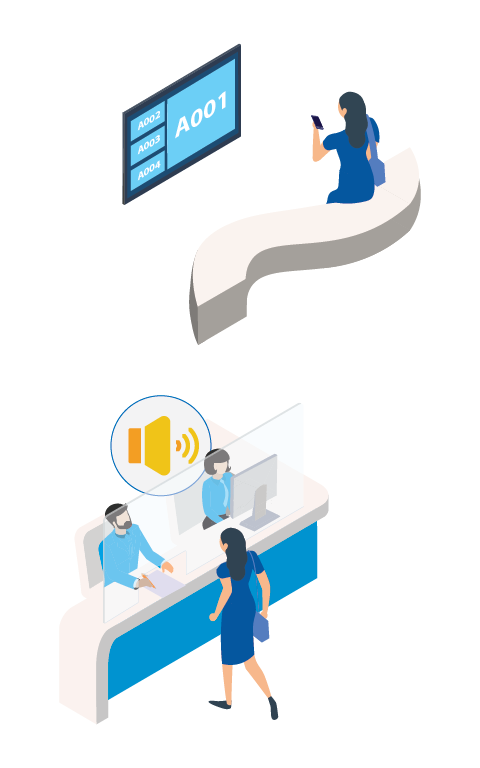 ANALYSIS
Real-Time Dashboard Monitor
The Dashboard Monitoring of SMARTQUEUE® 's queue management system ensures that the admin and management staff are kept aware of queue situation in real-time. Online monitoring makes managing queues and customer flow easier with instant and continuous alerts, and assists back-office management to make quick necessary interferences (e.g. Open more counters, assist staff, etc.). This ensures that you don't miss a single customer due to long waiting periods.
Dashboard Monitoring able to analyse:
Customers put on hold
Staffs currently serving
Staff performance (Monitoring SLA and KPI)
Average and longest for waiting times and serving times
Through Dashboard Monitor you are able to recognise:
Whether additional counters are needed to accommodate customers
Extra support from back‐office when required
Highly demanded transactions performed in real‐time
This allows the organisation to improve their performances based on branch analysis. It helps managers understand and relate to the amount of work done each day by counter staff.
KPI Reporting 
With a built-in data-consolidation reporting module, SMARTQUEUE®  queue management system allows you to analyse the ticketing/ queuing data across the entire organisation (branch/ centralised reports). It can provide summarised to detailed data according to your needs and the reporting system itself can be installed at the head office and receive data from branches.
KPI Branch Reports (Branch Management Reports)
With KPI branch reporting, managers can produce analytical reports in both table and graphical formats to examine performances and seek improvements. Among others are:
Daily Progress: containing the detailed data of each counter's serving time, number of customers for each business service, idle time, etc.
Detail per Service: giving a figure of each service, such as the number of customers, duration of serving time, served and cancelled customers and number of transfers
Detail per Terminal: analysing the performance of counter officers, such as the number of customers served and the average serve time by each counter
Reports are available in periodic options (daily, weekly, fortnightly, monthly, and yearly) or even in an open-dated format.
KPI Centralised Reports (HQ/ Centralised Management Reports)
With our centralised reporting feature, top management can monitor all the branches' performance and possibly compare them directly from the HQ. With this option, they may also create all the reports that can be produced in Branch to be generated in HQ.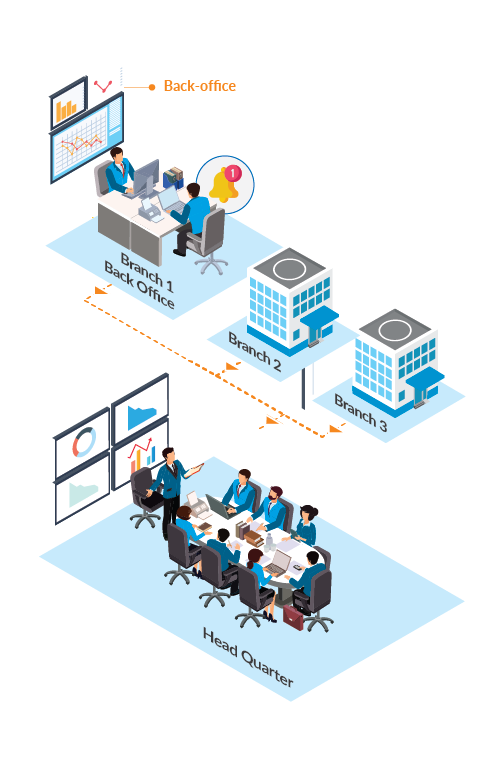 SECURITY
Real-Time Dashboard Monitor
With secure login process, SMARTQUEUE® queue management system allows access to every configuration setting easily for admin and management staff.
This security system includes the use of multiple-level user groups each with configurable user rights. Since each user group can be configured, rights and privileges can be limited or added for certain user groups. These rights include managing queuing categories, counter linkages, and viewing queuing information.
Moreover, with SMARTQUEUE® queue management system SITE licensing model, we only charge you a ONE-OFF purchase for each site license with unlimited user additions.